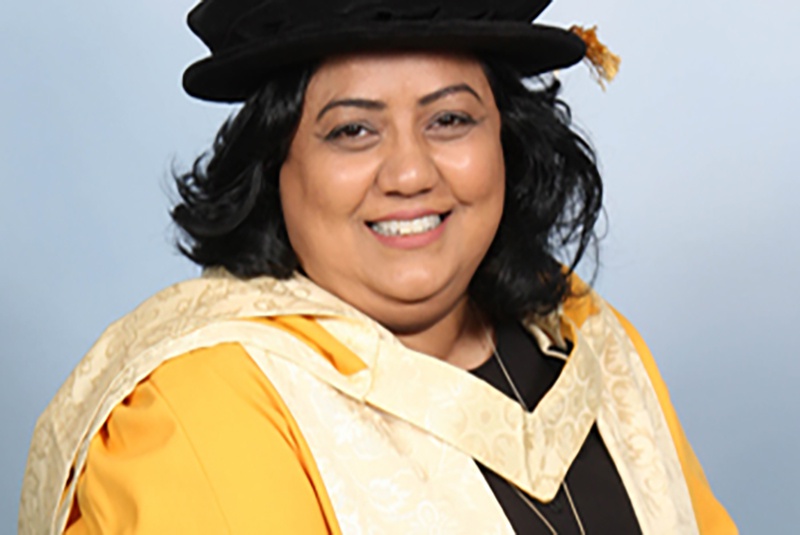 A Birmingham woman who supported the rescue effort in the  aftermath of the 9/11 terror attacks has been handed a top university honour.
Asha Devi, who has spent 27 years working in the construction industry, has been awarded an Honorary Doctorate by Birmingham City University, recognising her major contribution to the profession.
A structural engineering graduate, Asha's varied career has taken in a range of major projects, including assisting rescue teams in the wake of the 9/11 terror attacks, where she helped map routes for emergency services to navigate safely through the rubble of the collapsed Twin Towers.
The Handsworth-born engineer who works for renowned engineering consultancy, Ove Arup & Partners, has taken her skills across the globe including working with a non-profit organisation developing a newborn and maternity hospital in Tanzania.
She has also played a major role in her home city, contributing to key projects including the Water's Edge Brindleyplace, University of Birmingham, Birmingham Children's hospital and the Sea Life centre.
Accepting the accolade Asha Devi said: "When I graduated some 28 years ago I never envisaged that I would be standing on this stage accepting such an honourable, honourable award. Thank you. And to be addressing so many of you successful graduands. I'd like to thank the University and indeed all those who nominated me for bestowing upon me this honour.
"I'm able to stand here today in front of you proud of what I have achieved, I can even say I put my life on the line in the process of doing my job. When I joined the search and rescue teams in the aftermath of the New York World Trade Centre, I did not know what I was going into.
"And my work with the charitable organisations and NGOs in Africa has not propelled me in terms of my career, it has propelled me into the media, certainly in more recent times, but it has taken me to a deeper understanding of my own capabilities as an engineer, as a project lead and as a leader in the built environment.
It is my passion for the field of engineering and the built environment that spans over three decades, that drives me even today to support, encourage and mentor young people of our next generation.
Asha Devi
"You are our next generation. I hope that you will be inspired to strive to do more for the communities, the built environment and be better at whatever you aspire to achieve."
Asha has been involved in other major UK projects including the HSBC tower at Canary Wharf, London Science Museum and Portcullis House. Internationally she has worked on major manufacturing and distribution facilities in Europe and Asia. Today she is project lead on a range of education projects across the region and based in Birmingham.
In 2018 Birmingham City Council named her among 30 inspiring women to be featured in a book dedicated to the uplifting stories of second-city females, 'Once Upon a Time in Birmingham: Women who dared to dream.'
An active advocate of STEM activities in schools, Asha has recently become a Governor for a group of Further Education Colleges in Birmingham and a member of the West Midlands Land Aid charity.
She was presented with her honour during a special ceremony held at Birmingham's Symphony Hall, alongside students graduating from the University's Faculty of Computing, Engineering and the Built Environment.
Asha Devi added: "These are exciting times for our local education institutions, we have a wealth of talent and skills in our region and with the academic achievements of many of our young people, I feel privileged to be able to engage with the Faculty and offer my support to the students."